DRY LOGS 4 U

DRY LOGS Ltd

Dry seasoned firewood logs delivered to East and west Sussex..

ORDER NOW by PHONE : 01273 83 56 56

'like' us on face book to find best seasonal offers
All grades of Logs are supplied in 0.9m3 bulk bgs or smaller top up bags are 0.3m3
PREMIUM SEASONED LOGS (available in 8-10 inch or 6-7 inch)
Premium logs are processed from timber that has been felled and stored in the forest to season for 18 months before being processed in to logs during the spring and early summer, they are dry stored in specially designed ventilated bags to speed up the drying process. By the time they are offered for sale in the Autumn they have reduced to a moisture content of less than 20%. We offer the unique option to pre book premium logs as they are restricted in the number we can produce, every year we aim to increase the amount of premium logs made. They are dry stored and delivered with covers to prevent them getting wet during transportation.
Premium logs are cut 8-10 inches, we can cut larger lenghts if customers pre order and pre pay, we will then keep them seperate to be delivered when required. They are most suited to wood burning or multi fuel stoves and are also great for open fires as the burn very effeciently, therefore you should actually use less of them to produce the same heat as standard logs.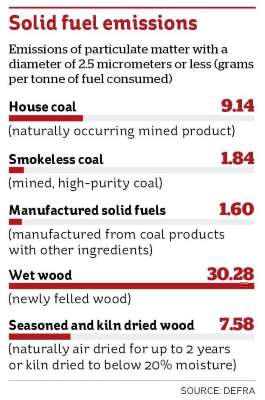 KILN DRIED LOGS. (avaialble in 8-10 inch)
Are the same as Premium but dried in a kiln using waste wood for a week until the moisture reaches 0%, when removed from the kiln they do absorbe moisture from the air and usually are around 15-18% moisture when delivered .
CALL 01273 835656 FOR DELIVERY OF QUALITY SEASONED FIREWOOD LOGS
Office address 1 Anetta Cottage, Henfield West Sussex. BN59NR
Quality seasoned Logs delivered throughout East and West Sussex
your website. Please use the grahic on the right and link to http://www.pagebreeze.com.